---
WELCOME
Our primary goal is to lower the euthanasia rate at the shelter. We can accomplish this goal by increasing adoptions, expanding our volunteer program, providing information and financial support for local spay and neuter programs.

FEATURED PETs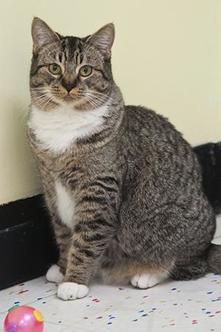 Miss Independent, that's what we call her. Carrie is a free spirit that can entertain herself, and doesn't need a houseful of other animals to share her life. She'd do well as an only kitty or as a quiet companion for another buddy. She's undemanding, but enjoys attention. American Shorthairs are lovingly known as "four on the floor" kitties, in that they're not too fond of being picked-up (they want to keep their feet on the ground), but enjoy being beside you for loving. Carrie will entertain herself with any toy she finds, and especially likes things dangling off the fishing-pole type toys. Like her American Shorthair cousins, she has a round, cobby physique, and with her short legs, she's fun to watch. Carrie's ideal humans are those who crave the fun, energy, joy, and inquisitiveness of a young adult, and will happily include her in their daily activities. She'll do best in a quiet home (no small, active children) with older children to keep her company. With a loving family, she'll be a wonderful and constant companion for many years.

Born in May 2013, Carrie is a brown tabby and white American Shorthair DSH female, is spayed, fully vaccinated (FVRCP and rabies), tested negative for FeLV, dewormed, deflead, and microchipped for identification. She uses the litterbox and scratching post, and must be indoors-only. Please contact Carrie's foster mom at tnamiller@hotmail.com or call (408) 228-4440 (voicemail) for more information about adoption; messages returned within 24 hours.
---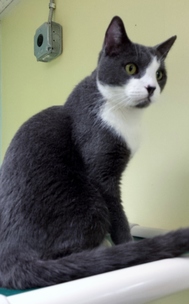 This big, handsome guy is Scooter. This poor guy was returned to us by his foster/adopter after 6-1/2 years in the same home where he had been raised since he was 2-weeks old. His parents stating that they could not give him the attention he deserved with 3 special-needs children in the home. We've gotten to know Scooter and he is a big, loving guy who likes lap and belly-rubs. If you are interested in Scooter please contact us at 669-228-4440 or adopt@fosmas.org . Lets get this guy a deserving home for the holidays.
---

Friends of San Martin Animal Shelter is a proud recipient of funding from
Maddie's Fund
®, helping to achieve a no-kill nation #ThanksToMaddie.
---